David Perry — Furniture Today, August 25, 2015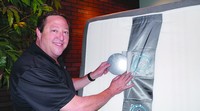 Phil Sherman demonstrates how the iFit technology is used with Customatic's adjustable sleep sets.
LAS VEGAS — Adjustable beds continue to set a torrid sales pace as retailers increasingly embrace the high-tech offerings, flooring a growing number of adjustable bases.
Leading adjustable bed makers did well at the recent market here, introducing a number of features and benefits to their models, including beds designed to work with sleep-tracking technology.
That last feature was introduced by Customatic Adjustable Bedz, which is offering adjustable beds that tie in with iFit sleep and activity-tracking technology.
"This is a new niche — high performance sleep," said Customatic partner Phil Sherman. "And it will help sleepers get better health and fitness." The technology will help sleepers customize their sleep experience to improve their sleep, he said.
Customatic is adding several models to its line, including its new Visionary base that incorporates all of the company's technology offerings. "This bed moves with the body more than any other adjustable base," Sherman noted.
And Customatic is also adding its ConturaFlex line, which features an adjustable foam that is based on an air extraction system. That customizable property is part of the company's overall marketing strategy, Sherman said.
Enso Sleep Systems said it is fueling growth in the adjustable bed category with its value priced adjustable beds, said Mark Akerman, president. "Our mattress business continues to grow," he said, "and adjustable bases are becoming a major part of our mix."
Retailers are embracing the technology and innovation in adjustable beds, said Martin Rawls-Meehan, president of Reverie, which enjoyed a "phenomenal" market in Las Vegas, officials reported.
"Adjustable beds are not a gimmick," Rawls-Meehan said. "The product resonates with consumers. Younger consumers, especially, are attracted to sleep technology. That technology and strong marketing programs are driving the category. Sleep technology will be an important part of our industry for a long time to come."
Glideaway now offers four adjustable bases, at retails from $999 to $2,199. The company's adjustable bed offerings helped it enjoy a solid market, said Carmi Fredman, president.
Mantua expanded its line with the launch of the Rize Avante adjustable bed, which the company describes as the only deck-on-deck adjustable bed with lounge positioning and high-tech features.
Palmpring added its Wave Adjustable Bed, which includes a motorized platform with an integrated foundation that allows for head or foot elevation.
Also new in the adjustable bedding category is the Sleep in Motion Adjustable Rocking Bed, designed to mimic the motion that consumers experience when a ship gently rocks in the night.
Credit: Furniture Today